Home
Welkom bij de webshop van Comic Toys. Uw adres voor actie figuren, speelgoed en merchandise uit o.a. de Marvel, DC comics en Transformers.
Voor vragen over orders of andere informatie kunt u van Maandag t/m Vriidag tussen 09:00 en 12:00 ook bellen met 072-8440566 of via de chat op onze facebook pagina.
For foreign customers: when the Dutch language is a problem for you, you can always sent us an e-mail, so we can help you with your order. info@comictoys.nl
Für die deutschen Kunden: Wenn es hier Probleme gibt mit der niederländischen Sprache, sendet uns bitte eine E-mail und wir helfen euch sehr gerne weiter. info@comictoys.nl
Let op alle pre-orders en vooraf overmaken orders dienen binnen een week te worden betaald. (zie ook faq)
Nu ook mogelijkheid om te kiezen voor afhalen op B.O.T.S (9 juni 2013)
Verzendkosten € 4,-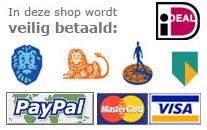 KvK:54392098
Nieuw in onze webwinkel
Nieuwsbrief
Meld u aan voor onze nieuwsbrief:

Gastenboek
Vandaag 3 te gekke beasthunters en t-bone gekregen van the ...
lees meer >>
14-05-2013
---
Goede service, per mail op de hoogte gehouden, bestelling volgende ...
lees meer >>
09-05-2013
---
Ik voel me goed als klant bij Comic ...
lees meer >>
01-05-2013
---
Plaats een bericht >>